New York Cyber Security and Engineering Technology Association (NYSETA) Fall 2021 Virtual Conference
Hosted by Queensborough Community College
When?
Oct. 29, 2021, 1 PM – 4 PM (register until Oct. 25, 2021)
Where?
Via ZOOM (you will be sent a ZOOM link once you register)
1:00 PM: Welcome, Prof. Ed Davis
Opening Remarks
Prof. Ed Davis, Department of Engineering Technology, QCC
1:10 PM: Welcome, Dr. Christine Mangino
Welcome Remarks
Dr. Christine Mangino, President, Queensborough Community College
1:20 PM: Plenary Speaker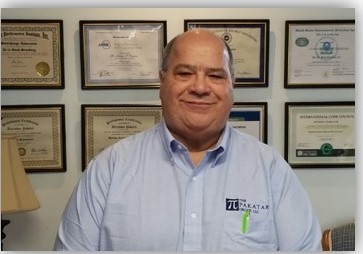 Transformative Energy Efficiency Investments
Art Pakatar, President, The Pakatar Group, LLC
The time is now to curb energy usage and global environmental damage from centuries of abuse. Here in the United States we consume 17% of the world's energy. Current energy use also contributes greatly to destruction of our environment. What is the answer, how can we turn this around?
Transformative investment in energy efficiency is a major part of the answer. Proposed legislation in the U.S. Congress will slash climate-warming emissions, as well as save energy. The investments could result in 4.5 billion tons of reduced carbon dioxide emissions (over 10 years).
Investments in energy efficiency and new technologies will spur industrial decarbonization. Decarbonization of Industry, buildings and transportation are transformative and will go a long way to slowing the degradation of our environment.
The future of change is now.
Session Schedule
2:00 – 2:25 PM
Track 1
Ethics Training in Construction Management Engineering Technology
Eric Anderson, Assistant Professor of Architecture and Construction Management, Farmingdale State College
A presentation will present the integration of an ethics module into a capstone course to discuss the challenges of using engineering or project management-based codes of ethics for student review. The ethics module in the course is based upon formal presentation of ethics, the difference between businesses and professional services in-class workshop where students rank project and site ethical transgressions team development of a code of ethics individual research papers on the adaption of the team code and its impact on project activities.
Track 2
An analysis of working remotely during the COVID-19 pandemic
Joseph Abel, Instructional Support Technician and Dr. Nazrul Islam, Professor & Chair, Computer Security, Farmingdale State College
Cybersecurity issues have become serious challenges for the design and maintenance of Information Technology infrastructure. The presentation will analyze the struggles of cybersecurity in the digital world during the pandemic. The presentation will explorer enhanced security methods that organizations can utilize and provide an efficient design of an online virtual platform that can provide the requested remote working environment with strong security infrastructure.
Track 3
Zoom Workshop
Monica Cormier, Instructional Technologist at Rochester Institute of Technology
This session is intended for instructors who already have experience teaching online using Zoom. It is designed to help the user become more efficient with Zoom or to use options and tools which may improve their online teaching experience. Monica will customize her interactive presentation to fit the audience's interest. Some of the topics may include sharing hosting duties, trying out a waiting room, polling, annotating a screen shared document, creating and moving among breakout rooms, using interactive features such as yes/no/go faster, and pinning and spotlighting video. Additional features can be reviewed as requested. Due to the interactive nature of this session, enrollment will be limited.
2:30 – 2:55 PM
Track 1
Engineering for Fitness on the QCC Spanish Stairs
Dr. Tony Monahan Ph.D., Assc. Professor, Dept. of Health, Physical Education and Dance, Queensborough Community College
Edward T. Davis, RA, Assc. Prof. Department of Engineering Technology, Queensborough Community College

Centrally located with the Kurt R. Schmeller Library on its' north edge and the Administration Building on its south edge, it represents the heart of campus. The Spanish Stairs serve as an important link between the upper and lower campus and is traversed by thousands of students each day. As part of a larger collaborative service-learning project, students from the ET Department and the HPED Department investigated the stairs' characteristics and potential as a natural physical fitness site on campus. This introductory talk breaks down the stairs' history, physical features, and its potential for improving the physical fitness levels of QCC students.
Track 2
Mechanical Behavior of 316L SS Manufactured using SLM Method
Jay Upadhyay, Professor, SUNY Polytechnic Institute
Dione Tuwaidan, SUNY Poly

Additive Manufacturing (AM) is a layer-by-layer manufacturing technique that involves local melting and (re)solidification of the material at the designated region. The process involves 3D modeling of the desired component, slicing it into multiple 2D layers, melting and (re)solidification to create a final 3D component. In recent years, metal AM has gained traction in the manufacturing industries because of its capability and freedom to fabricate complex geometries with a wide range of materials. Among various metal AM techniques, the commonly used one is the selective laser melting (SLM) method which fuses metal powder using laser as an energy source to create micro-and meso-scale components with comparable mechanical properties to that of the traditional manufacturing process.
Track 3
Visual Analysis and the Composition of Functions
Andrew Grossfield
Vaughn College of Aeronautics
A major problem today concerns educating the next generation of technicians, engineers, researchers. Too many of our nation's students end up neither comprehending nor liking math courses. More intensive drilling of material as currently practiced may be both ineffective and undesirable. In fact, this rigorous drilling may turn more young students away from mathematics and the sciences. Why has this situation developed when mathematics is so interesting?
Calculus students memorize the chain rule but rarely understand composition of functions or how composition fits into technical applications.  Say we have a gear train. The motion of the pinion drives the following gear which drives a following gear which drives a rack. A simple multiplication describes how a change in the pinion position or speed affects the motion of the rack.
But say the mechanisms in the train are nonlinear. The question remains how input variable changes affect an output variable. Mathematicians call the mechanism of a function acting on a function, a composition of functions. This presentation shows how the application of simple arithmetic rules enable the plotting of the composition of a large class of functions. Technicians who develop the skills of visual thinking in mathematics may find these skills beneficial in their future studies and careers.
3:00- 3:25 PM
Track 1
A study of combined cooling, heating, and power system integrating thermal energy storage system
Dr. Kibria Roman, Assistant Professor, SUNY Canton
With the abundance of literature on different types of thermal storage systems (TSE), in our current study we aim to integrate TSE in our existing model and investigate the effects of this integration in terms of the performance of the new system in the areas of economic, energy, and emission savings. In making this integration possible, we developed a new algorithm where we adopted the hybrid load following strategy and for the operating condition when the total building thermal load is less than the maximum energy that can be extracted from the PM exhaust, instead of extracting exactly the amount of head needed to meet the thermal load demand
Track 2
Detecting Phishing Websites Using Machine Learning
Michelle Conway, Hudson Valley Comm. College
Phishing is a significant problem in today's world causing many businesses and individuals to lose large amounts of money and time when an attack is successful. Many phishing websites have similarities and data sets have been created that extract these features from phishing and non-phishing websites alike.
The goal was to use machine learning methods to classify a website as phishing or legitimate based on these features. The presentation will show how the data was used to perform the analysis.
Track 3
Lights, Camera, Learn! Using "Lightboard" Educational Technology for Enhanced Student Learning and Motivation
Prof Dimitrios. Stroumbakis, PE
We have all experienced various learning content delivery modalities ranging from on-line, Hybrid, and traditional in-person classroom teaching setting. A myriad of creative video technology solutions have been used by instructors to deliver student-centered learning, either synchronous or asynchronous. Video lectures come in many forms and have become standard tools in the instructors arsenal to help meet the challenges of distance learning, especially maintaining student engagement and motivation, which impact retention.
In this presentation, we will review and demonstrate the benefits of using the next generation of video-based learning using "LightBoard" Technology, a powerfully engaging, illuminated clear glass writing board , that brings back the comfort of full instructor visibility to the student. This technology allows for constant face to face communications as instructors write on the board, eliminating the age-old "instructor obstruction" where the constant turning of instructor interferes with real-time writing on a wipe board or blackboard. Review of recent research studies on video lightboard effectiveness on student learning outcomes are discussed as well as the recommended pedagogical practice for optimum results.
3:30 PM
NYSETA Business Meeting
Discussion and elections